When east meets west, fast food with a Vietnamese twist!
S only knew there is a branch in Manchester Arndale, but she didn't know much about this place before coming here. Therefore, S didn't really know what to expect here but just only knew here as a Vietnamese restaurant. It's about 10 mins walk from Piccadilly Garden bus stop, and you can see the clear sign of the restaurant once you're close.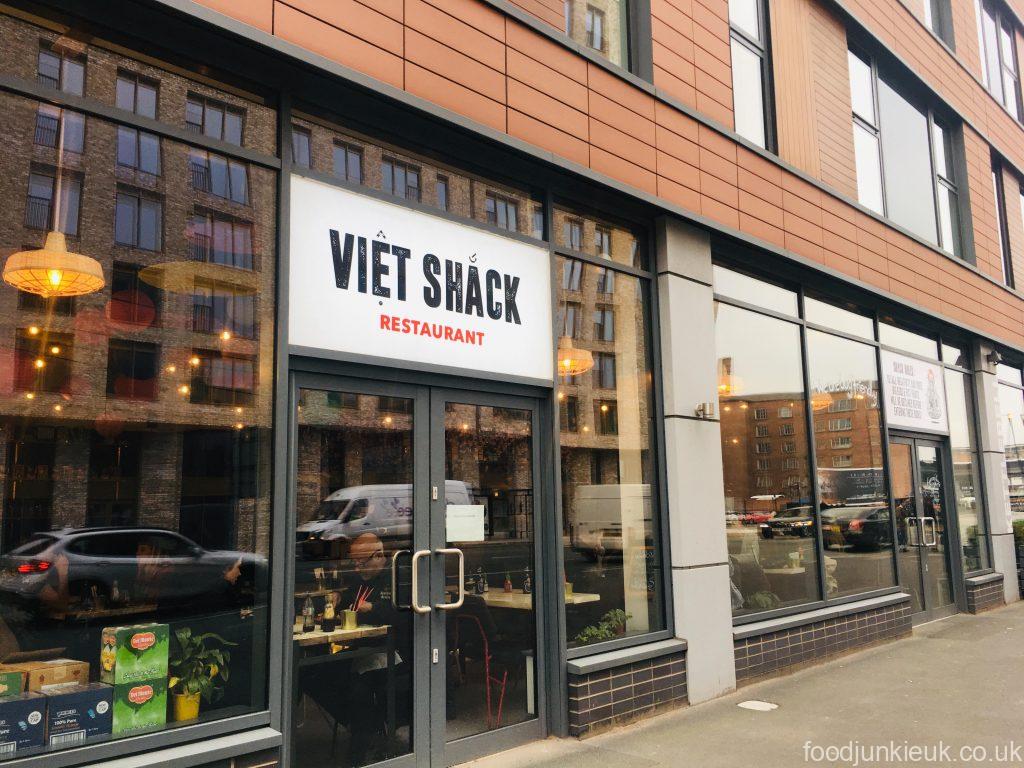 The first time S visted was a lunch time on Friday, and it was relatively full considering it was a weekday lunch time. The restaurant was half full and the staff were quite busy. The restaurant's kitchen is visible from the seating area, so you can see your food being prepared while you're waiting. The second time S visited was on a weekday dinner time and it also got packed quite quickly.
You can tell the owner puts some thought into the design of the restaurant. There are some special decorations on the celling. Somehow it just lightens up your day when you see these colourful umbrellas.
The menus can be found on their website now. S tried their lunch menu which offered a set of £9.9 with a beer or soft drinks. S had Bun Bo Hue, Chicken & Rice and a side of Goi Cuon with king prawns. The second time S tried the Shack Fries (£13), Crispy Duck Rice (£11.9) and Goi Cuon but with smoked salmon this time (£6.1).
The first dish that came to the table was the Goi Cuon (Summer roll) which was made with rice paper rolls and stuffed with noodles, salad and veg etc. You can also choose one main ingredient like king prawns, smoked salmon or avocado with peanut butter sauce on the side. It's a really refreshing dish and also quite filling at the same time. Overall, S prefers king prawns over smoked salmon.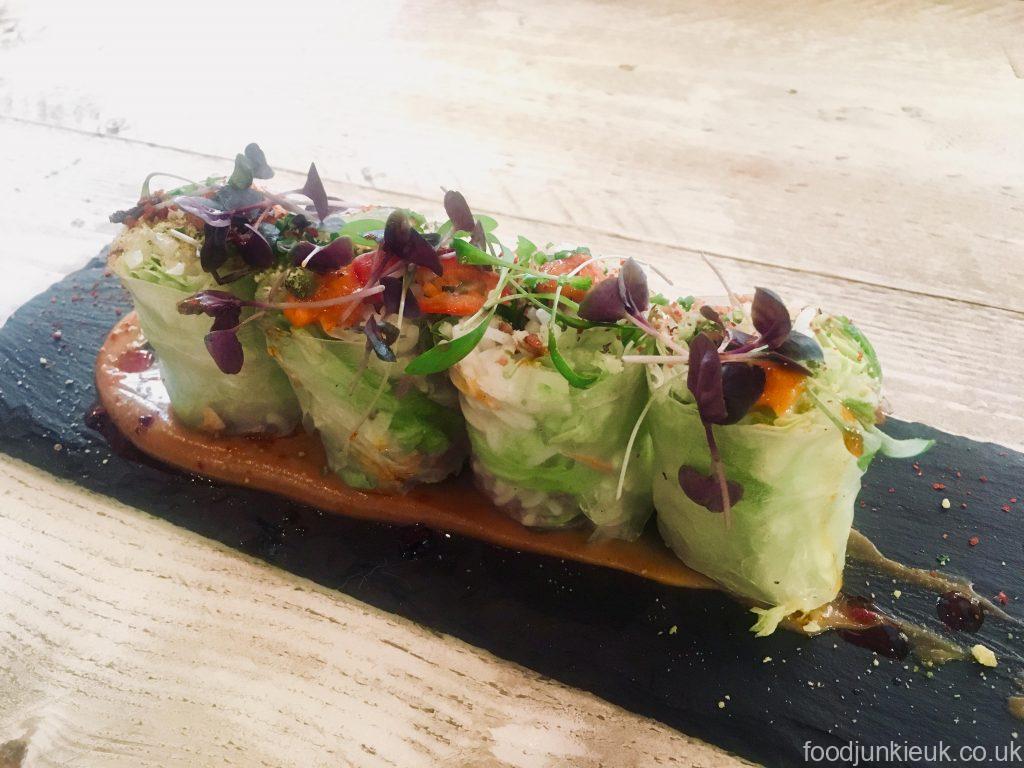 Since it was quite chilly that day when S first visited, a hot warm soup dish was always a great choice for that kind of day. Bun Bo Hue was served with steamed noodles in a spicy beef broth. If you want something with more flavour than pho, S would definitely recommend this dish.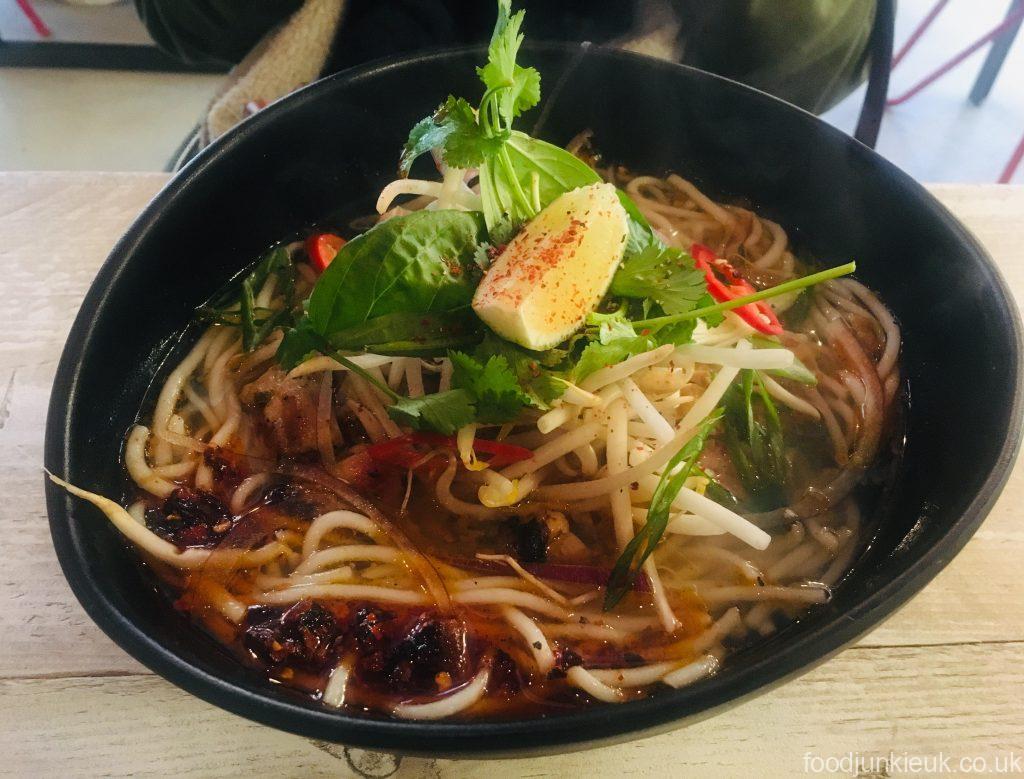 As you can see, both rice dishes are quite colourful and green. The grilled chicken from the Chicken & Rice was marinated in fresh lemongrass and came with the fried sliced garlic, it was an awesome combination! S really enjoyed the Crispy Duck Rice because of the homemade sriracha jam, which went so well with the crispy duck.
Last but not least, their signature Shack Fries and you will see almost everyone order it when they visit Viet Shack. The steak was cooked medium on top of a good portion of chips. Moreover, the sauce on the steak had a little kick and it went well with the chips too!
Overall, it is a good place if you want to try something with an exotic taste, but it also serves burger and chips if you don't fancy asian food. Hence, it can meet everyone's needs when you want to find somewhere to eat. A little note for Viet Shack is that they only accept walk-ins, and they are a dog friendly restaurant which is definitely a bonus.
Restaurant info:
Address: 65 Great Ancoats St, Manchester M4 5AB
Opening hours: Mon.-Thur. 12-3pm; 5-9pm/Fri.-Sat.12-9:45pm/Sun. 12-9pm
Site: https://www.vietshackrestaurant.co.uk